Dungeons & Dragons - No Time To Grind Episode 78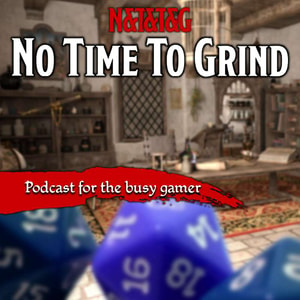 Roll for grind-itiative
2020 was an insane year, featuring and amongst a global pandemic and politics breaching our comfort zones, we chose the theme "the best games of all time", from great legacy's such as Legend of Zelda: Ocarina of Time, to the 2020 Game of the Year The Last of Us Part II. Chrono Trigger, Grand Theft Auto: Vice City, Castlevania Symphony of the Night, Final Fantasy VII Remake, The Witcher III Wild Hunt, Batman Arkham Asylum, Bioshock, Dragon Age: Origins, Crash Bandicoot 3, and Phasmophobia-- takes a deep breath are finally capped off with a game that ascends gamedom, the vehicle, or concept, the king of table top roleplaying games, the patriarch of pen and paper, Dungeons and Dragons, 5th Edition, is our game for December 2020.
We go into depth regarding D&D Beyond, the nuances of the classes and races of Faerun and the Sword Coast, and we even have an excellent supplementary episode, like Tasha's Cauldron of Everything to the Player's Handbook, we have a sister episode; The Night of Wintermas, so make sure you've subscribed and listened to that episode as well. While it's hard to discuss such a large game like this, we pretty much nail it and the nuances that come into play regarding Dungeons and Dragons and the modern services it comes with.
We also take a look at what can fill the boots of SotN, OoT, tLoU2, FF7R, Phasmo, and GTA – for the year of 2021 our cult of busy gamers becomes the game of busy cultists (like a "game" of swans). We're hitting up Cult Classics; and games that have a deep history regarding such niche communities. Jedi January with Star Wars: Jedi Knight: Jedi Academy, Laugh-Out-Loud February is our 80th special featuring League of Legends, March Madness as in Psycho-Madness Gabriel Knight and his Sins of the Fathers, April lifting up to Monster Hunter: Rise, May objects with Phoenix Wright: Ace Attorney, June features the renowned cult classic Undertale, July jumps into Psychonauts, August's game is Nintendo's Earthbound, September buffaloes us with Bully, October zaps in with Destroy All Humans, sink your teeth into November's Vampire: The Masquerade: Bloodlines, and finally, tune in to December's special 90th episode; Rocksmith.
Find out more at http://notimetogrindpodcast.com