Gabriel Knight: Sins of the Father - No Time To Grind Episode 81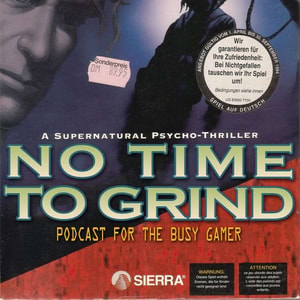 What do you know about Grindoo?
This episode is less about just one game, but about game design itself. In this mammoth episode the boys go in depth on what it's like to play a game from 1993 in 2021 and how that translates for a busy gamer. Point and Click adventure titles seem to have dwindled in recent years, but how does a compelling tale about ancient African religions and German monster hunters hold up?
The boys discuss the standardized verb systems used with games in that time, and the methodology of game direction. With a stellar cast of Tim Curry, Mark Hamill, Leah Remini, Virginia Capers and more, this point & click adventure title features Gabriel Knight, a budding novelist in New Orleans, investigating serial killings which is staged as acts of voodoo, but as he researches deeper, the possibility that voodoo is real starts to unfurl.
We also dive into a small touch of PlayStation 5 and Monster Hunter: Rise. For more details and information, come on down to our socials: https://www.facebook.com/notimetogrindpodcast/ https://twitch.tv/megamattex https://twitter.com/Mega_Matt_EX https://www.youtube.com/c/notimetogrind/
Gabriel Knight: Sins of the Father - No Time To Grind Episode 81
Find out more at http://notimetogrindpodcast.com